I started Nutrition For Your Soul as a means to coach women who want a deeper spiritual connection in their lives. My goal is to help you nourish your body, mind and spirit. Maybe you would like to lose a few pounds and have more energy, gain more confidence and become who you are truly meant to be.  I am committed to helping  you reach your highest goals. Perhaps the kids have finally left home and you are now ready to embrace a new life which fulfills your life-long dreams and passions. I can help you with your life challenges and get you to where you want to go.
Using the new cutting edge approach of Eating Psychology I will give you tools to incorporate more joy into your life as you go through your 40`s, 50`s, 60`s and beyond. There absolutely is life after 40! If you have been doing some soul searching and are ready to make some transitional life changes, I can help you using various techniques of Mind Body Nutrition. I will show you the importance of learning how to slow down, relax and nourish your body, mind and spirit. By taking time out for you, finding time for reflection, and becoming present you will become more balanced in all areas of your life.
Plus, I can help you discover what message those extra pounds may have. Whether you are an emotional eater, binge eater, have body image concerns, or if you are dealing with digestive concerns, fatigue, mood issues or even low immunity, using the unique techniques of Dynamic Eating Psychology, I will help you achieve your specific nutritional needs.
It is time to bring personal joy back into your life and celebrate all that you were meant to be!
---
My Journey
When I was in my mid 30's we made a move to our present home in the beautiful Okanagan Valley in British Columbia, Canada. That was when my own personal journey of self-discovery began. After spending 17 years as a wife, a mom, and working in a job I did not like and feeling very burnt out, extremely fatigued and depleted inside, my soul was crying out for me to find my purpose. First I discovered an inner creativity and love of working with design, arts and crafts and became self-employed for the first time. Then as I was reaching 40, my two sons had left home and I instinctively knew that now it was really time to nourish me.   I was intuitively led to certain books or courses that set me on a new path, one of further growth, learning and healing. I started to read voraciously and take part in classes that filled my soul with new knowledge and understanding. I was fascinated with the body and bega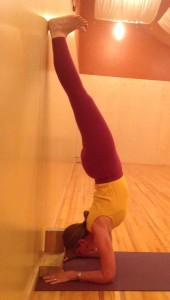 n to study many aspects of Nutrition, Holistic Health, Reiki, Reflexology, Acupressure, Massage, Touch For Health and so much more.
Then at the age of 42 I discovered yoga which was transformational for me. I began to feel more connected, gained more confidence in myself and even though there were times of frustration, I was proud of what my body allowed me to do and amazed at the effects that yoga had on my body and my mind. At age 44 I began a three year teacher training program to become a Certified Iyengar Yoga Instructor and in 2002 I opened my own studio A Place For Yoga and Health which changed location three times. But I now own and operate the current location. I have been teaching in my community of Lake Country, BC for 14 years. Yoga has taken me to India 5 times to study with my teachers, to France, USA and across Canada. I have continued to upgrade my skills by studying with Senior teachers and passing higher levels of assessment for certification. The learning never ends!

But there was still more! For several years I had been searching for something in the nutritional field that I could incorporate with my knowledge of the body, mind and spirit through yoga, but nothing seemed to be the right fit. Until I came across the Eating Psychology Course which fit in beautifully with the philosophy behind yoga. Now I have even more tools in my tool kit to help my students and future clients become more connected to self and to realize their full potential. So my wish is to help as many women as I can become embodied and to embrace and love who they truly are.
May the Journey of learning never end!
---

---

Lynne Bowsher is a Certified Iyengar Yoga Instructor, an Eating Psychology Coach and Mind Body Nutrition Coach trained by The Institute for the Psychology of Eating
, an internationally acclaimed program and the world's leading school in Nutritional Psychology. She is also a Certified Digestive Intensive Graduate of the Holistic Nutrition Lab Program with Andrea Nakayama, a Functional Nutritionist, Educator and Speaker. She is enrolled in The Functional Nutrition Alliance Full Body Systems program where she is being trained to become a Functional Nutritionist. Lynne is skilled in helping you with the following:
Nutrition
Weight Concerns
Emotional Eating
Overeating
Binge Eating
Body Image Challenges
Chronic Dieting
and a variety of nutrition related health concerns such as
Energy
Fatigue
Digestion
Mood
Immunity
Eating Disorders
various Mind/Body techniques such as
Mindfulness
Yoga
Breathing
and so much more. . .
Contact Lynne today to book your personal coaching session!
250-878-1251